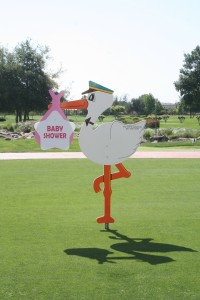 Help your guests locate the shower with ease!
Having a stork at a baby shower is a great way to help guests find their way to the shower. Who could miss a 7 foot stork in the front yard?
Call to make your baby shower more memorable. Don't forget to take a picture of the mom-to-be in front of the stork. It makes a great photo keepsake!
1-day Baby Shower Package is only $60.00*
*Does not include personalized keepsake. Personalized Keepsakes are $20.00